Branding is one of the most vital tools in the marketer's arsenal so a quick refresher certainly can't hurt.
While many experts refer to branding as the most powerful business tool of the century, there are few people who understand it and even less than can execute it successfully. In his new book, "The Brand Gap," Marty Neumeier cuts to the heart of what branding is all about: the rift between strategy and creativity – "between logic and magic" – that can cause a brilliant branding strategy to fail.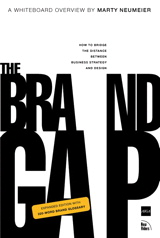 So what IS branding? According to Neumeier it's not a logo, a product, nor a corporate identity system. Instead, he attests that a brand is a "person's gut feeling about a product, service, or company." Because our society has evolved from mass production to mass customization, we base our buying decisions on symbolic attributes and most importantly, trust – which in Neumeier's words, is "the bedrock of modern branding." This goes back to what we always tell our clients – it's not what you sell, it's what you stand for. While features and benefits of various products are still somewhat important to an overall buying decision, personal identity has become the driving force behind why certain people buy certain products or services. It's why we ask our clients, "who are you?" rather than, "what do you sell?" It's why we ask, "what pain are you solving?" rather than, "what are your primary target markets?"
Neumeier guides us through a set of five branding disciplines – Differentiate, Collaborate, Innovate, Validate and Cultivate – benchmarks designed to help us bridge the gap between building a brand strategy and building customer trust. He uses examples from successful greats such as Nike and Starbucks to eminent brands that are mistakenly beginning to deviate from their specialties such as Volvo and Porsche.
One of the most important insights Neumeier provides, however, is that a "living brand is a collaborative performance, and every person in the company is an actor." Branding doesn't stop once you have a loyal customer base and a brand icon – when people's experiences with a company match their expectations, their loyalty increases. From receiving phone calls to landing a new customer to giving a presentation, branding is living and breathing in all aspects of an organization. As Neumeier states at the end of the book, "if a brand looks like a duck, quacks like a duck, walks like a duck and swims like a duck, then it must be a duck."