The phrase "when pigs fly" means… well basically… never.  Ironic, then, that all of a sudden we have two very different sets of pigs that have taken flight.
The Philadelphia Inquirer has recently launched a well-done series of print ads and an online campaign patting themselves on the back for having a slight up-tick in circulation.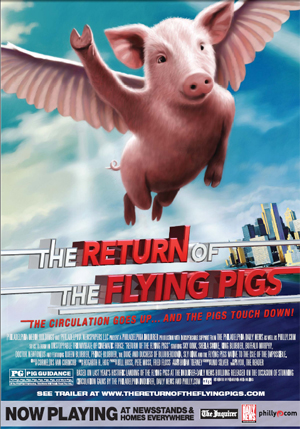 For the six months that ended Sept. 30, The Inky had slightly increased weekday sales (about 338,000) up almost 8,000 from the same period last year. Its Sunday circulation was down by about 20,000 (when flying pigs wobble?). But really, the Inquirer should be congratulated for being just about the only significant newspaper in the country to not be bleeding subscribers; the New York Times was impressed.
The Inquirer's self-congratulatory campaign has taken flight at the exact same time a somewhat different corporate entity has launched pigs of its own – Trojan condoms.
Their ads are telling men on the make that their chances of unprotected success are about as good as pigs flying… unless they buy Trojan's products.
So you now you know what the newspaper business and condoms have in common. But it leaves a couple of questions: Whose pigs went airborne first? And, perhaps more importantly, do you think the ladies will like it if I subscribe to the Inquirer?