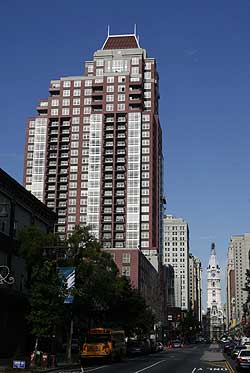 Nearly one month ago – on Halloween, mind you – Philadelphia Inquirer architecture critic Inga Saffron dismissed the residential high-rise Symphony House as "Nightmare on Broad Street" and "the ugliest new condo building in Philadelphia." While Inga's harsh critique of a project touted by developers and city officials in of itself warrants discussion, perhaps more intriguing is the ensuing fallout.
Galvanized by Inga's article, proponents and opponents of Symphony House rushed to voice their opinions and draw up battle lines on none other than the Inquirer's Letter to the Editor section. Symphony House's developer Carl Dranoff and architect Michael Ytterberg, backed by prominent Philadelphia developers, naturally took exception to Inga's scathing remarks, whereas man-on-the-street responses generally fell more in line with Inga's remarks. Among the many responses, however, one comment in particular – from David Stewart of Haddonfield – resonated with me. He wrote:
One is free to regard Symphony House as either a "Frankenstein mix," as Inquirer architecture critic Inga Saffron put it, or as "timeless," in the words of its builder Carl Dranoff and (he presumes) his "many sophisticated buyers" (Letters, Oct. 31). In either case, it's hard to imagine a letter to the editor on this issue meriting front-page mention (with a photo!) and nearly half the editorial space. When space in The Inquirer is given over to those whose feelings have been nicked based upon their financial, civic and personal connections, that's the real "Nightmare on Broad Street."A month later, with the debate over Symphony House largely subsided, I still find myself considering the implications of David's comment. Are individuals "whose feelings have been nicked" entitled to an editorial rebuttal? Does this type of backlash prompt critics to become more cautious in their critiques, or does it simply come with the territory? Has the editorial page been compromised by inequitable treatment of editorial coverage? How can the Inquirer better prioritize the volume and placement of letters to the editor?
To me, it comes down to one thought: What if every restaurant owner to receive a bad review from notorious food critic Craig LaBan were entitled to a front page rebuttal the following day? Worse still, what if only the most prominent restaurant owners were entitled a rebuttal, whereas lesser owners were forced to endure the critique in silence?Let's not go down that unsavory path.