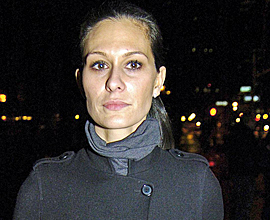 Move over Bonnie and Clyde, Alycia Lane wants her share of the limelight!
That's right, Lane is back in the news again this week after being arrested in New York City for allegedly cursing at and punching a NYC police officer in the face. While the charges in of themselves are significant, in the broader scope the incident rehashes the debate over the fine line between celebrity and journalist.
It seems to us that Lane has been acting more like Lindsay Lohan than Diane Sawyer. On top of being arrested for allegedly verbally and physically assaulting a cop, her personal life has repeatedly been under national scrutiny in recent months. There's nothing quite like being exposed for sending racy photos to a married man (TV sportscaster Rich Eisen) to lend credibility to your nightly newscast. Not to mention two appearances on Dr. Phil to discuss failed marriages, or the paparazzi tracking your love life.
By nature of constantly being in the public spotlight, journalists and news anchors wield tremendous community influence. With this status comes an implicit responsibility to serve as an upstanding citizen and community role model. So when Lane's actions begin to destroy her reputation, she not only does herself a disservice but also, in effect, does the community a disservice.
What makes her past scandals (read: bikini photos) so troubling is that they have actually improved Lane and co-anchor Larry Mendte's nightly news ratings. In fact, just two weeks ago Philly Weekly's blog, Philadelphia Will Do, declared that CBS 3 and ABC 6 were neck and neck in the 11 p.m. news ratings.
Conventional wisdom would suggest that viewers prefer their news delivered from a credible and trustworthy source. Perhaps this preference will finally take precedence following this latest blunder, as by all accounts Lane's job is hanging on by public opinion – and if the public decides she's not a proper news source, she will be out.
In the meantime, bravo to CBS for taking her out of the holiday special that will air tonight, and for removing her from station promotions. Let this be a wake up call to Lane to learn from the experience and get her act – public and private – back together.