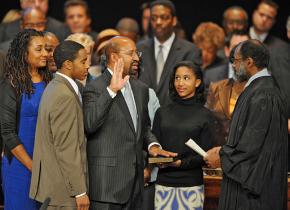 When we media train clients, one kernel of advice we love to give is to "speak in headlines." In other words: be clear, concise, and stay away from industry-specific jargon. Reporters, after all, are looking for sound bites, not epic stories.
Bravo to new Philadelphia Mayor Michael Nutter for following this advice. To demonstrate the merit of this approach, a quote from Nutter's inauguration speech actually became The Inquirer's front headline yesterday: "This is our city and we're taking it back."
It takes Nutter just nine words to underscore his commitment to addressing all the key issues: crime, higher education, government transparency, civic engagement, community pride, etc.
Here's to hoping that the solutions to these weighty issues are similarly direct and concise.