"Even in hard times, wise investment — not retraction — is the long-term answer to the industry's troubles," wrote James O'Shea , recently bounced editor of The Los Angles Times, to his newsroom staff in a letter.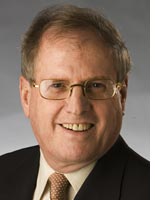 O'Shea's departure from the LA Times comes with much fanfare and media attention, almost 700 articles to date. O'Shea is the most recent in a string of high-level firings at the LA Times. John Carroll quit in 2005 as editor after refusing to make cuts to the newsroom. Then, in 2006, editor Dean Baquet and publisher Jeffrey Johnson were fired for similarly refusing to make cuts.
Like many newspapers, the LA Times is in rough financial shape. Despite its financial woes, O'Shea asked Publisher David Hiller for a $3 million increase to the newsroom budget — it stood at $120 million. Hiller disagreed. O'Shea argued that he couldn't provide the Times' typical news coverage, plus cover two significant events for 2008: the presidential campaign and the Beijing Olympics, with a flat budget.
In many ways, O'Shea and Hiller represent the two spectrums of today's newspaper industry —O'Shea believes the best way to make money is to spend it; Hiller says, "It's an attractive theory, but it doesn't work."
The news from the LA Times isn't new and it isn't unique. In fact, as stock markets plummet worldwide, many are considering this Shakespearean question: To spend or not to spend? Most businesses know the debate well.
Regardless of the budget, there are always solutions. That requires innovation. Some solutions might be wonderfully inexpensive; others might pose their own financial challenges. But clearly, the newspaper industry must find a way to generate new revenue streams, provide new offerings or launch new approaches. If not, "business as usual," might soon mean, "business closed."