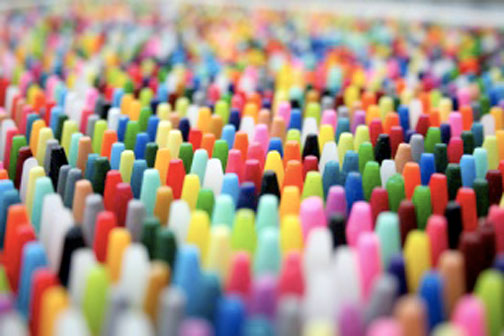 There is a silent force that affects us every day. It can be your friend or foe. And it's called color.  Color can affect what mood we're in, what coffee we buy or even what we crave for dinner. It's part of the reason why some logos are more memorable than others, why brands keep certain color palettes and why certain industries typically stick with the same two or three colors. It gives instant meaning to brands, campaigns and any other form of visual representation. Hence, it's vital for designers and marketing professionals to understand the power of color – because it helps them communicate their client's message, without using words.
But, don't enroll yourself in a color theory class just yet because cracking the color mystery doesn't have to be overly complicated! In this five-part series, entitled Color is Talking, we'll share five important tips for using color. Each week, we'll present a different tip with examples on how to execute them. With these tips at hand, you'll be able to tackle any color situation with ease.  Check back each Wednesday, to read what color is saying.
We're kicking off this week with a simple, yet powerful tip: sometimes it's good to pick favorites.
Color Says To Pick a Favorite.
In a world where it's hard to pick what you'll have for breakfast, how can you be expected to choose one color? You can spend days creating beautiful color combinations that display the best the color wheel has to offer, but that won't help you. The truth is, you need to have a dominant color in any project.
Start off by getting to know your client. Learn and understand their message and their purpose. Get to know the audience that they currently attract and the audience they want to attract.  Knowing who they are will help you choose a dominant color that best represents them.  Keep in mind that each color has its own quality and its own message. Make sure that your chosen color's message works well with the brand's message.
As Blake Howard explains in his article, Select Colors with Purpose for HOW.PARSE, you have to think of color in a singular way.  You want your brand to own a color and be instantly indentified by it. By using a simple palette, your logo can communicate a message in a clean and clear way. For example, does anyone remember the Apple logo as a multi-color apple?  If you do, great! But, for those of you that don't remember, take a look at it.
As you can see, Apple's logo evolved into a simple monochrome style that supports the sleek design of their computers. The multi-colored apple didn't work well because there was no reason for it. The colors didn't support the iconic apple shape logo.
Once Apple axed the colors the logo became sleek, modern and innovative – what Apple represents. The logo delivers the message without confusion.You instantly know who they are.
When designing a logo, remember that simple is best and most of the time you don't need an assortment of colors to get noticed.  All you need is the right color and your logo will be unforgettable.
Can you think of any other logos that picked a favorite color? Look at the millions of logos that are around us and you'll start noticing that the most successful logos are the most simplistic.
Come back next week and read about what the color wheel can do for you!