Wal-Mart revealed their new logo this week (sorry – that's Walmart now, they've changed their name too) to match the new softer, kinder, more gentle experience you're supposed to get in their redesigned stores.  (That's for a different blog…)  They even got rid of the *.

Since all we knew of Walmart was this logo (they didn't start entering the Philadelphia area until the mid-1990s), we started looking around at where it had been.
Believe it or not, the first Walmart logo looks a heck of a lot like the new one.  This was created in 1962 and lasted until 1964.  It's a similar blue, all one word, and pretty straightforward.  One might even say this logo represents a straight-shooter.

The longest-lasting of the logos was next.  This is the first official logo, and it represented the brand from 1964 to 1981.  It's quite stylized and reminiscent of a small general store on the frontier.  In 1964, that's pretty much what it was.  In fact, in 1970, there were only 38 stores.

Apparently, though, one logo was not enough.  In 1968, this second logo was introduced, and the two co-existed until 1981.  According to Walmart, the "Discount City" mark was used in print advertising, on the uniforms/smocks, in-store signing, and other things. However, it was never used as building signage or in an annual report. While hitting customers over the head with what Walmart stood for in 1968 may have been necessary, the same could not be said 13 years later.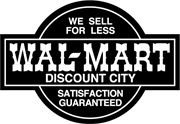 By the early 1980s, Walmart had introduced a whole new shopping experience – the supercenter discount store.  And the logo reflected it.  Big block letters and utilitarian brown dominated the brand.
In 1992, the beginning of the Bill Clinton era brought in a flashier new logo; the one we all know best.
And then there's the new version that we see today.  In reality, it communicates a lot more than a star.  There's a ring of sustainability in it (it could be considered a flower or sun) that's all too trendy in these "green" days.  This is important for Walmart, which does not have the best environmental or employee treatment reputation. 

There's a lot that can be learned about a company from a logo, but in reality – do they matter?
Consider this: when announcing the new Walmart logo on NBC Nightly News this week, Brian Williams reported that it would be a lighter shade of blue, have no star or hyphen in the middle of the word, and be followed by an orange star.  He said, "Orange?  It looks more like yellow to me."
So here's to you, the logo makers, those who debated the exact PMS color for days – even months.  And to Walmart, which has spent millions on this already and will likely spend millions more.  Here's to your orange…ish star. And here's hoping people care.