Well, it's a little bit about the economy and fulfilling your brand promise. But mostly, it's about Paul Newman.
You know, Cool Hand Luke. Fast Eddie Felson. Butch Cassidy. Reg Dunlop. And my personal favorite, Henry Gondorff.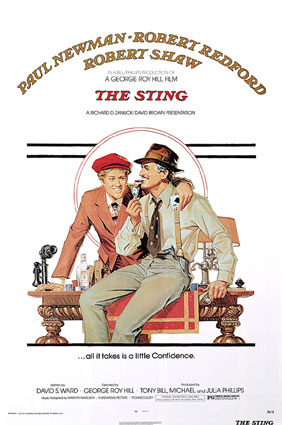 Sadly, Paul Newman passed away on September 26th, leaving behind a countless array of classic characters and films  that'll go down as some of the greatest, most memorable creations in cinematic history. 
The stats surrounding his career are astounding. He compiled an acting career that spanned nearly 60 years. He appeared in more than 15 television series and 65 movies. He received ten Oscar nominations, with one win; 14 Golden Globe nominations, with six wins; and four Emmy nominations with one win. He was married to actress Joanne Woodward for 50 years (practically 1,000 in Hollywood years). His racecar team won 105 times. And he was named #13 on Entertainment Weekly's list of the Greatest Movie Stars of All Time.
These figures, however, don't come close to Paul Newman's most impressive number: $250,000,000. That's how much he and the Newman's Own Foundation  have donated to charities around the world in a little over 20 years. And just to give you ne last number — that equates to 100% of all after-tax profits and royalties from the company's products.
Newman's Own's motto is "Shameless Exploitation in Pursuit of the Common Good," from which it's clear that Newman wasn't only a great actor, he was a pretty savvy marketer. Recognizing that his celebrity was a far more powerful brand than even the best salad dressing's could ever be, he used it for a noble cause, once jokingly stating, "When I realized I was going to have to be a whore, to put my face on the label, I decided that the only way I could do it was to give away all the money we make."
Now if only AIG's executives had been so selfless…
But again, this isn't about the economy. It's about Paul Newman and bidding a fond farewell to an actor, entrepreneur, race car driver, humanitarian — and for the purpose of this blog — a great brand.