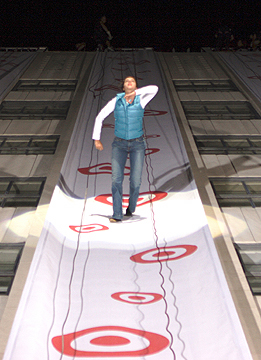 This time two years ago, we were hot on the Target vertical fashion show.  It completely cut through the clutter by being super-visual and unexpected.  Since then we've contemplated doing something similar for a number of our clients, but unfortunately none of them had a Target-sized budget.

But now there's a new kind of advertising / PR stunt changing the game. In the center of one of the busiest and most cluttered intersections in Japan, Adidas has suspended two soccer players and a soccer ball from a billboard.
So what does it take to make thousands of people stop in their tracks? In addition to being unexpected, I would argue that most successful PR stunts feature activity.  You or your product or your street team has to DO something.  No matter how well you spin words to generate excitement, your PR success is greatly limited if there isn't some kind of movement or noise to complement all the talk. Something has to happen.

Similarly, you can spend millions of dollars in TV commercials every year, but nothing will generate the buzz of a living billboard.  Just look at the number of people in the video taking (and likely sending) mobile phone photos.   And we all know – thanks to previous posts – word-of-mouth marketing is absolutely crucial to the success of a business.
http://www.youtube.com/watch?v=EpW6PN7KvTU