The Burberry raincoat has been a fashion icon for over 95-years, even in this recession remains Burberry's best-selling item.  Yet like all industries during these tough economic times, the luxury retail industry is being hit hard, and even companies as successful as Burberry need to reevaluate their approach, as they come to the realization that their highly affluent but aging customers are cutting back on their spending.
So Burberry's CEO, Angela Ahrendts, is attempting to bring Burberry online, and reach a new generation of shoppers, through, yes, you guessed it, social media.
On Monday, Burberry introduced a social networking site, called artofthetrench.com.  The site encourages people to share their own trench coat stories, and describes itself as "a living document of the trench coat and the people who wear it." The site shows everyday people wearing Burberry trench coats and the company invites photographers and trench coat owners to participate and will then add the best of the submitted shots to add to the site. Users are encouraged to comment on and share photos, with the site linking directly to Facebook Connect.
Burberry's step into the social media stratosphere reflects a growing trend in luxury goods companies.   Traditionally, these companies have scoffed at the idea of taking to the web, seeing it as a place for shoppers looking for a cheap deal, who are searching for knock-offs or counterfeits.  Today, however, these companies are throwing previous perceptions out the window, realizing that if they want to reach a younger audience, they have to get online and into the social media space, as quickly as possible.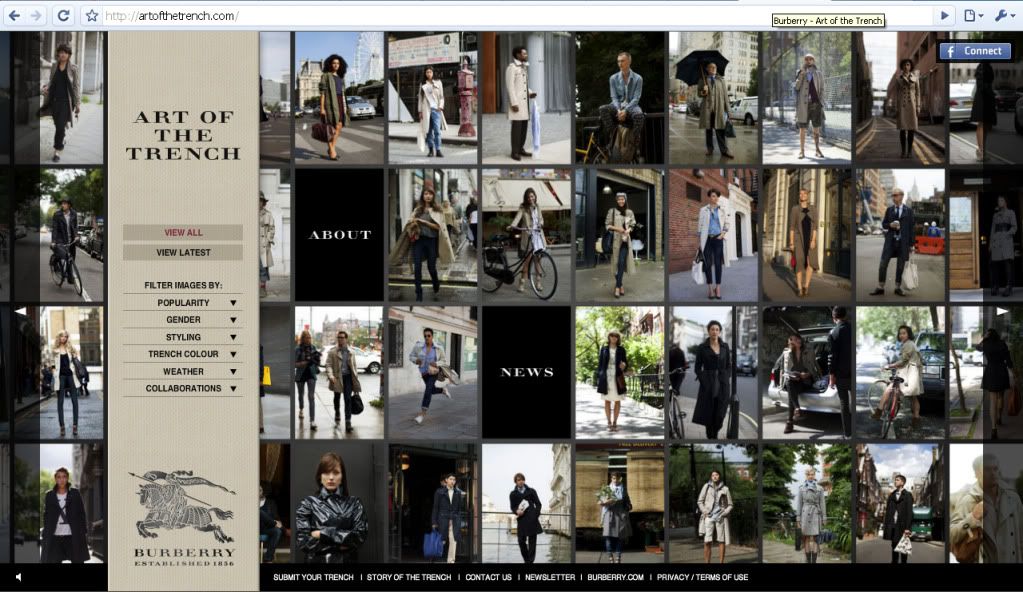 In September, Fabergé, creator of the Imperial Easter eggs, started selling its new jewelry collection almost exclusively on the Web. In October, Gucci launched its own iPhone/iTouch app and micro social networking site, Salvatore Ferragamo Spa launched and online store, and Giorgio Armani unveiled plans for a mobile commerce site.
After an eight percent decline this year, the $226 billion global market for luxury goods is expected to grow again next year as younger consumers and working women replace retiring baby boomers, and it appears as if Burberry and these other luxury goods companies will use there presence online to help ensure these sales.
To date, Burberry has more than 699,000 Facebook fans and is also attracting customers via Twitter and Youtube, and far the company is doing well, with the price of its shares doubling during the past year.  Of course much of this is due to Ahrendts' business savvy, but it appears as if connecting with the next generation of buyers is also a key factor.
At Braithwaite we are in the business of story telling, and one of the ways we help our clients get their stories out, is online and through the social media space.  So we would like to say, hats er coats off to Ahrendts, for telling the untold story of the trench through the web, Facebook, and Twitter.