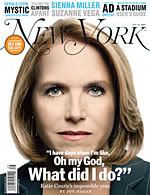 Not many executives would agree to a full sit-down interview with New York Magazine at the lowest point in their public and professional career.  But that's just what Katie Couric did, and everyone is talking about it.
Having the quote, "Oh my God, What did I do?" positioned right below a full frontal shot of your pretty mug might not be the best idea for someone trying to get out of the ratings gutter.  I'm sure it wasn't her choice, but why give the reporter that headline?
In reality, the most interesting parts of the feature are the infighting at CBS, its refusal to spend money on the news department and this admission from Les Moonves:
"Moonves, a TV executive with a barrel-chested confidence in his gut for good TV, says he bears no responsibility for how the show has failed: 'Nope. I really don't.'"
But that's not what Access Hollywood, FoxNews and the Dallas Morning News have repeated over and over.  It's all about Katie's big mistake, the fact that she pinched a producer and her ban on the word "sputum" [What's the relevance of pinching and sputum?]
There's a tiny bit of joy to be had in the fact that an article about a journalist has spiraled out of control.  But the fact of the matter is that it could happen to any of our clients.
This brings us to the question of bad publicity.  The cliche: there's no such thing as bad publicity. What about in a case like this?  Katie may win some viewers back with her honesty and transparency and the subsequent non-stop coverage.  Or maybe she'll win the pity vote.  Then again, it may just take some time before the American people are ready for Anchor Katie.  It is still taking people some time to get used to Senator Hillary Clinton.  And don't forget – Katie has Hil's old PR pro on her side.